Generative Circularity at Lucca Biennale Cartasia 2022
New spatial relations with the exceptional context of the Galleria del Palazzo Ducale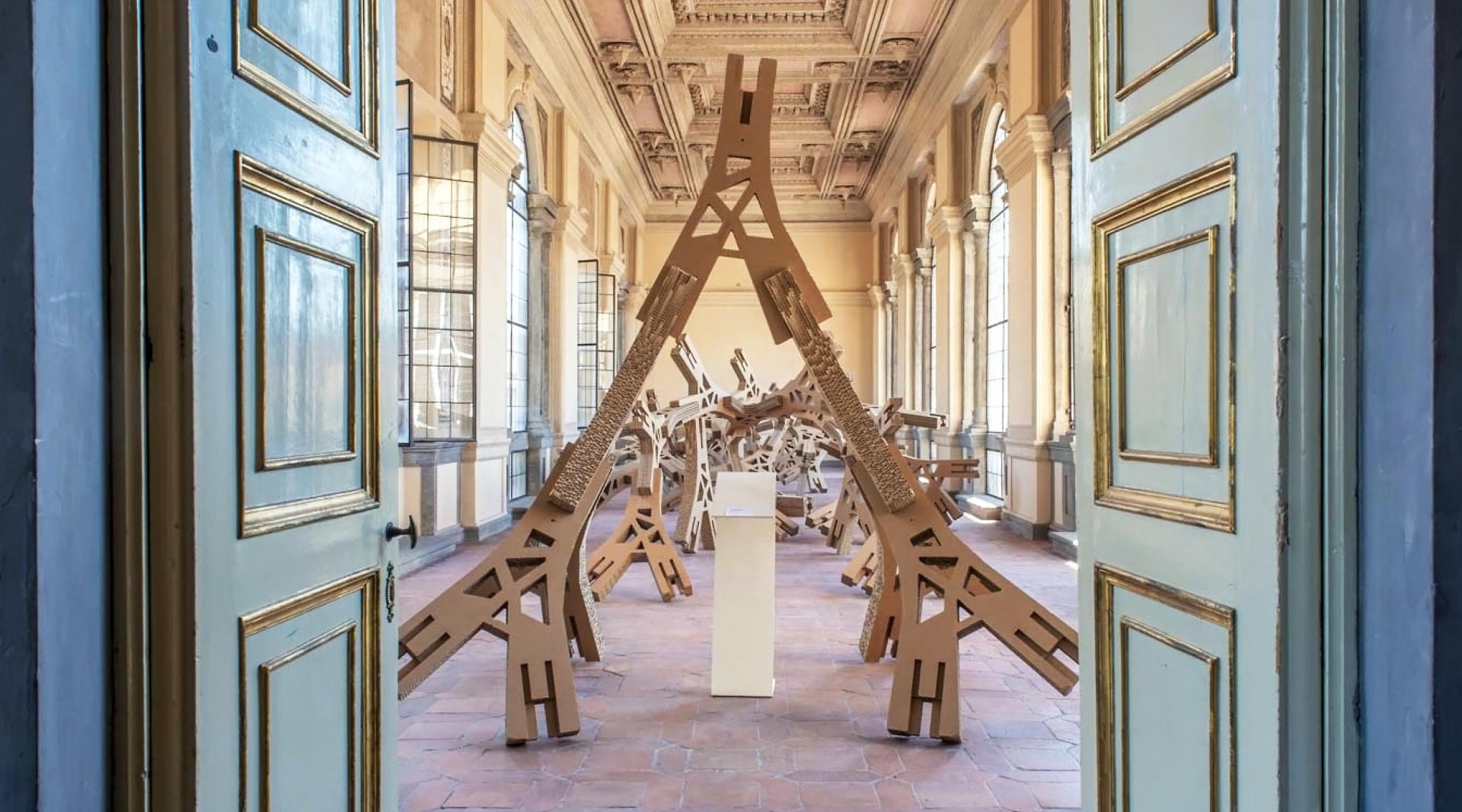 After Fuorisalone 2022, Generative Circularity is among the protagonists of LubiCa (Lucca Biennale Cartasia) '22, an international event dedicated to paper and its potential in the fields of art and architecture. The installation integrates with the historical context of the Palazzo Ducale Gallery that hosts it and is part of the 'indoor' section of the event.
The theme of the event is "The White Page", intended as a new perimeter within which to rethink practices and methodologies in a contemporary key, returning a horizon that in perspective can respond to the increasingly pressing needs of sustainable development. A thought that fits perfectly with the basic idea of ​​Generative Circularity, which investigates the possibilities and potential of digital generative systems for the development of new circular design solutions, mediating needs, aesthetics, practice and sustainability.
Generative Circularity is in fact a dynamic system that replicates itself based on the context in which it is inserted. Different spaces correspond to different solutions, each representing the best of geometric and physical requirements which as output represent their feasibility. The Gallery, rich in historical elements, is a striking and strongly connoted architecture that required a careful study of the new form of the installation.
After the point cloud survey, physical space has become digital, a habitat imposed on the generative algorithm. In fact, the installation takes into account also scenographic variables such as daylight lighting and shading throughout the period of the event. Respect for the integrity of the space is also perceptible in the conformation with unloading points on the ground uniformly distributed over its entire depth. The Gallery and the installation become a unique, immersive environment for the visitor, a plastic representation of an instant that crystallizes space, time, history and design.
Research and development are one of ATI Project's responses to the need for renewal of paradigms with evident limits. From the complexity of reality, flexibility and adaptability emerge as constants which, although already widely established, maintain a central role in the continuous evolution of the tools and materials we have available for a future of change.
It is a satisfaction to see the potential of a research method in the field of design enhanced, as happened with Generative Circularity after the Milan week of the Fuorisalone. Special thanks go to the organizers of the event, a team of determined persons with an ambitious vision of the future who make this immersive experience possible for their city and all visitors.
Together with our technical partner Materieunite, we invite you to visit LubiCa and Generative Circularity at the Palazzo Ducale in Piazza Napoleone, open until 25 September 2022!
Photo: A. Casalini ©Lubica22